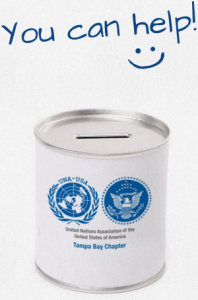 UNA-Tampa Bay could not accomplish its mission without the generous support of our local community. All donations made to our chapter support local initiatives and programs. Our Board serves on a completely volunteer basis and does not receive monetary compensation.
UNA-Tampa Bay is a registered 501(c)3 non-profit organization. All donations are tax-deductible. Please contact us if you need assistance with obtaining information for your taxes.
We conduct multiple fundraising initiatives throughout the year that are made possible through various corporate and local business sponsors. Learn more about our past events and our sponsors.